Premium Sound Effects
Professional range of sound effects for creatives with our premium Gold upgrade
Get 24/7 access to a huge and growing library of professional sound effects to download, perfect for any creative project. We work with some of the best sound designers and libraries in the world to bring you amazing sounds at the click of a button. Upgrading gives you these additional assets and a whole lot more. By upgrading, you'll be able to download thousands of additional pro sounds faster, attribution free and best of all, from just £4.
When I'm deep in a mix & a client asks for something I don't have in my libraries, I'm always confident I'll find multiple options in the Zapsplat library. To me it's one of the greatest bargains in the independent SFX library community.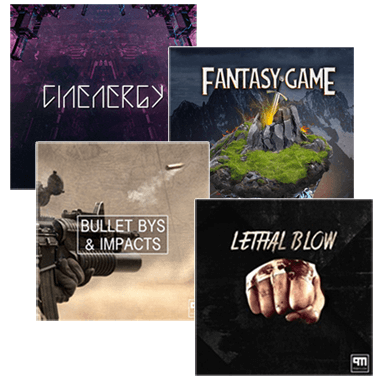 Incredible Sounds from World Class Libraries
As a premium Gold member you'll have access to sounds from some of the leading sound designers and libraries in the World.
Sounds that span almost every genre, recorded around the world. No other library brings together so much in one place!
Thousands of extra sounds
With thousands more sound effects and lightning fast downloads, a Gold account makes your workflow faster with even more great sounds at your fingertips!
Attribution free
Premium Gold members do not have to credit ZapSplat when they use our sound effects, perfect for the more professional creative or when crediting us just isn't possible!
Extra benefits
Up to 100 results per page, create sound lists, download high-quality wav files and mp3s for all our sounds, go ad free and much more. Get the premium experience by going Gold!
Latest professional Gold sounds…
Download Ready Below...
Remember, you must credit us/provide attribution when using our sounds/music in your work. An example would be:
Sound from Zapsplat.com
---
Remove the credit requirement and get more when you upgrade for just £4
Quicker downloads (no more delays)
Removal of the attribution requirement
Higher quality sounds (get the wavs too)
Thousands of extra sounds
Lists, more results per page & ad free
Basic members can only download 3 sounds every 10 minutes to save bandwidth
You can continue downloading in....
Get unlimited downloads and more!
Quicker downloads (no more delays)
Removal of the attribution requirement
Higher quality sounds (get the wavs too)
Thousands of extra sounds
Lists, more results per page & ad free
All this from just £4