It's with great pleasure that today we can announce the upload of our 20,000th free sound effect. Since our launch in 2015, we strived to create one of the biggest and most useful collections of free soundfx online and that mission is still alive today. Averaging 500 new sounds per week, we are now working towards 30,000 sfx to download.
New download system
The last week or so has been busy and a little stressful. As some of you may be aware, we've been working with our developers to bring several new features and changes to zapsplat.com over the last few weeks and some haven't gone exactly to plan. One of these features was a whole new download system. In fact we released a blog post updating users about the new system last week only to then find problems with the system across several browsers and we had to go back to the drawing board.
The final solution was to start to serve our sounds from a brand new server, so although doubling our monthly costs, you should now find our downloads work on every browser and are faster to download. Safari users will be the biggest winners here due to the fact that our sounds previously didn't always download, but opened in the browser media player instead. This should no longer happen. But as always, report and bugs to us.
Part of the update now allows us to reduce the quality of the audio previews. This is good because it means they will load and play faster and will save us bandwidth, reducing our costs. Obviously downloads haven't been affected and all files are downloaded in the usually high quality.
Mix-Pre 3 fundraiser
I rarely launch fundraisers for equipment or development as normally the donations we receive via account upgrades is enough to mostly keep our site running. However the recent development and also now increased monthly outgoings means we will struggle with the costs a little more.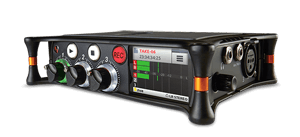 I am looking to purchase a Sound Devices Mix-Pre 3, a fantastic new audio recorder that boasts ultra quiet pre-amps and superior quality over the recorders I currently use. By upgrading to one of these, I'll be able to start using some of our external microphones and to be able to capture even higher quality audio, which, of course will ONLY be release free here at zapsplat.com for you all to download and use in your projects. I'll post up an update and link to the fundraiser shortly, and if you feel you can spare a dollar or two to help, that'd be awesome.
More free sounds by Free To Use Sounds
Today I uploaded loads of new sounds by Libby and Marcel of Free To Use Sounds. Marcel has been contributing lots of the recordings the duo have made on their travels around the world and we're extremely grateful for their generosity by joining and contributing to the community.
Sounds uploaded today include traffic, markets, pump jacks, construction sites, typewriters and more. Check out their profile page where you can download them all. Tomorrow I'll be adding many sfx they recorded in Vietnam, which I'm really excited about.
If you love their work, also check out their website where you can download their entire collection of sounds, which include the full length versions we haven't included at zapsplat. Click here.