Detunized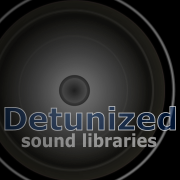 Detunized was founded by Stephan Marche in 2009. The company develops and distributes Sampled Instrument and Sound Libraries for its constantly growing catalog that currently offers close to 100 releases. Stephan was working in the video, TV and audio industry since the mid-nineties. Beside his work for Detunized he has been involved in the creation and curation of factory libraries from Ableton, Bitwig and Music First.
Download Ready Below...
Remember, you must credit us/provide attribution when using our sounds/music in your work. An example would be:
Sound from Zapsplat.com
---
Remove the credit requirement and get more when you upgrade for just £4
Quicker downloads (no more delays)
Removal of the attribution requirement
Higher quality sounds (get the wavs too)
Thousands of extra sounds
Lists, more results per page & ad free
Basic members can only download 3 sounds every 10 minutes to save bandwidth
You can continue downloading in....
Get unlimited downloads and more!
Quicker downloads (no more delays)
Removal of the attribution requirement
Higher quality sounds (get the wavs too)
Thousands of extra sounds
Lists, more results per page & ad free
All this from just £4