I've been recording a few bits and pieces I found around the house today as I've been feeling the start of a bug of some kind coming on and just didn't feel like going out on location. That's the beauty of being able to work anywhere. So I set about gathering some bits and pieces I had lying around and got to work. Here are a few of the new free sound effects I've recorded and added today:
Glass scrapes, drops and breaks
I've had an old small picture frame sitting in a drawer at home for sometime. The plan was to put some pictures in it at some point, but today the creative side of me took over. I decided to record lots of various sounds with the glass from the frame. First I recorded lots of scrapes on various surfaces, the glass being put down and finally smashed. After smashing it, I took three sharp shards and recorded them scraping together and more.
Eggshells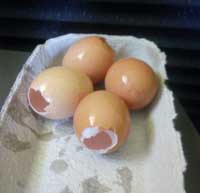 I'd been thinking about emptying out some eggs and using the empty shells for various sounds recently, so today I finally got round to it. Breaking just the top of each egg, I tipped out the egg white and yoke and washed out the shell. After doing this with 3 eggs, I took the shells into a quiet spot and recorded them being broken and crushed. Not liking to waste any recording option, I also took the small pieces and recorded them being crushed too. You can download them here.
Spades and water
My neighbour has every tool imaginable and I've been round to record some of them before. But today I took the opportunity to record some simple spade digs in the ground. There are a few single dig sounds plus a few variations as well.
He also has a huge water tank in his garden which, after all the rain we've had recently was completely full. He suggested we record him emptying some of it out onto the grass below, which we did, plus into a bucket. I thought these may also be useful for sound design elements if that's what you need.
I'm hoping to be back on it tomorrow recording more. There are also a few requests in the forum I still haven't got round to, which I'll try and complete this week.