I'm pleased to announce the latest new feature here at zapsplat.com…. Lists (Lists are only available to Gold members, click here to donate and upgrade)
What are lists used for?
Lists are simply ways for you to save personalised lists of our sounds. They are perfect for creating a group of sounds for a particular project, or movie scene, or just for creating a draft list of sounds you can then trim down to your exact requirements later if you don't want to commit to downloading sounds as you search for them. Many of our users have expressed the need for a system that allows them to do this. You can give each list a title and description for neat organisation, add or remove sounds at any time and edit or delete the list if you no longer need it. Here are some examples of how lists may be useful to you:
1) Filmmakers
Filmmakers working on a movie or video project may have specific scenes they need sound effects for. You can create a list for each scene and save the specific sounds needed for each within it. Then when it's time to come back and grab those sounds, you can download them all from one convenient location. Lists are saved to your account and are only ever deleted by you.
2) Streamlining the user experience.
If you've come to zapsplat.com to look for a few sounds and don't want to commit to downloading a sound straight away, lists provide the perfect option to create a draft group of sounds which you can then come back to and trim down to your exact requirements before downloading.
3) Lesson planning for teachers
Many teachers have told us they use our sounds to set tasks for their students. You can group sounds per project or per lesson with ease and they'll be saved forever (unless you delete them) for the next time you need them.
4) Create your own mini library to save your hard drive space
Many users have told us that while the shear number of sound effects we have available for free is great, working their way through them can be overwhelming. Lists provide you with a great platform to save sounds you find useful into a mini library just for yourself. If you're limited on storage space on your device, saving a mini library as a list at zapsplat.com allows you to come and grab a sound you've saved whenever you like, without clogging up your hard drive.
Adding a sound to a list
Adding a sound to a list is simple. On each sound result, when logged in to your Gold account, you'll see an '+ Add to List' button.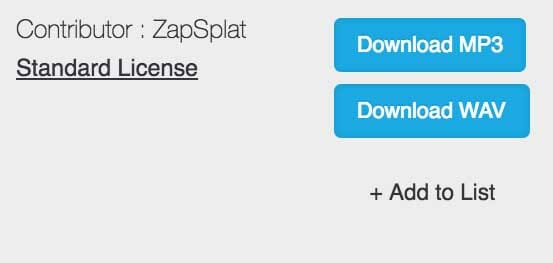 Click this and either create a new list or select the list to add the sound to from the modal window that opens. That's it. Your lists are available from the main menu under 'My Lists'.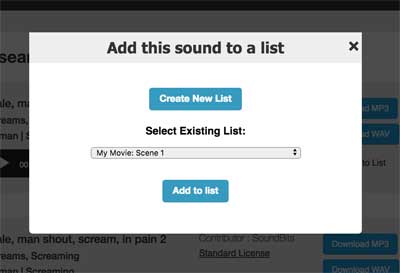 We are working on the ability to share your lists
Currently lists are private and only viewable by you. We'll be working on updating this so that you can keep your lists private, or share them with friends and colleagues. Sharing will be via email groups, social media or with other members at zapsplat.com. This update will work well if you're working on a project with other people and you want to share a selection of sounds you think will work well in that project with them.
Groups
Another update in consideration is the ability to share lists with other members, but in the form of a group. You'll remain the group admin (or you can assign another member as the admin, so only you can add or remove sounds, giving you control).
Remember, lists are only available to Gold members. You can donate and upgrade here.