While I was looking for the first plugin to review, the Krotos Audio plugins landed on top of my list, so when I was asked to review Reformer Pro I jumped at the opportunity. As a sound designer for the last 20 something years. I have been watching the development and growth of plugins and how they are making the jobs of designers easier and smoother, while you can't yet replace experience with tools, the world is opening up more and more for us as designers and with tools like Reformer Pro from Krotos Audio coming out, the potential these plugins or tools offer, just mean we can push the boundaries further and quicker than ever before.
Overview
Reformer Pro is a plugin that is designed to simplify the sound design process by allowing you to mix a combination of up to 4 sound effect libraries together, either through automation, Midi, direct input or prerecorded sound from the DAW.
Whichever your preference is, this plugin is a great way to introduce a new level of design. Included in the initial purchase is the "Krotos Bundle one" which is 3.8GB of sound effects to get you started. This plugin has been used in shows like Game of Thrones, The Lion King and one of my favorite sound designed series Stranger Things to name a few, but let's get into it and see why these A-list shows have used this plugin.
Let's get started
When you first open Reformer Pro your initial screen allows you to dive right in, the library it comes with gives you a great start with some cool SFX libraries including, Big Cats, Fruit and Veg, Leather, Electronic, Sizzle and a couple others. Once you have loaded your SFX's, the plugin is as easy as moving the dot around the X/Y pad blending the 4 sound libraries with each other to create different effects. That's the basics there you go now have fun…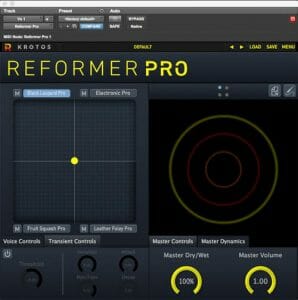 Ok but on a serious note, when you dive in to the plugin you are now faced with a world of opportunities to create almost anything you want. Reformer allows you to load up to 4 sets of sound libraries at a time. You can mute any of the 4 panes in the X/Y or go deeper into the libraries and mute individual sounds that you don't quiet work for what you are looking for, the reason for this is Reformer randomizes the sounds that are played and when they are played so you might want to spend some time working within these libraries to make sure the sounds the are being triggered are the sounds you want, Reformer allows you listen to individual sounds, mute them or adjust the levels within the libraries, on top of all these, you can really dig into the sound effects and change the start and end times of the sfx as well, so if you're looking just for a part of the sfx you have pulled in, let's say you're looking for just a piece of the sound you recorded, just select that part of the sound, so no need to jump back and forth from your DAW to edit out what you are looking for.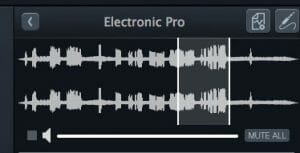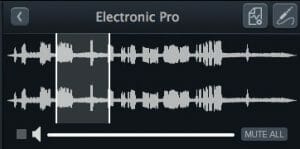 The X/Y pad triggers the sounds as you play the recorded audio, adding a variety textures and depth to your sounds. Reformer can give you varying mixtures of these effects so you could either add depth to your creature or replace the voice completely with the new SFX. While I was playing around with the plugin I tried to mix the sound of a VW Polo with the Bengal Tigers that comes with Reformer Pro and just for fun I threw surface bubbles into the mix, I started playing with the three effects and found myself still experimenting 30mins later. This was only because I had no clear idea of what I was looking for and I found it was rather fun trying to make my VW Polo sound like a it was spewing bubbles out the exhaust pipes and growling at the same time.
Depending on how I placed the yellow ball on the X/Y pad, I could create a massive variety of sounds and effects and mixtures revolving around these 3 sounds libraries, I should also note that I did not load in very large sound libraries as there were only 4 variations of the Polo and 4 of the bubbles. If you had larger libraries loaded you could start refining the type of sounds you wanted in by muting the sounds in the individual libraries. This really gives you freedom to build the sounds you are looking for.
Voice Controls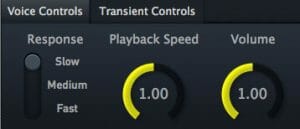 The "Voice Controls" have some cool features as well, allowing you to adjust the "Response" time in three settings – Slow, Medium and Fast. This determines how quickly or slowly the SFX responds. Then there is the "Playback Speed" as it says this determines how quickly or slowly the SFX are played back and then the "Volume" is how loud to play back the selected X/Y Sound.
Transient Controls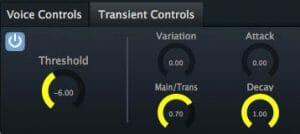 In each of the 4 X/Y Panes the sfx libraries can be controlled deeper with the "Transient Controls", these include, the Threshold, Variation, Attack, Main/Trans and Decay. Adjusting your threshold will allow you kill any sfx below selected levels, in the case of the tiger and the car I really wanted those low growls, the variation changes the sfx in the library played back each time, Attack and Decay are pretty self-explanatory, but for those who don't know the Attack is how quickly after the sound is triggered that the effect happens, and the Decay time is how long it plays after the fact, this leaves the Main/Trans, which allows you to mix between the classic Reformer engine or the transient engine.
So you could completely loose the original sound or you can set how much of the original sound you will hear, the part I enjoyed most when playing with these "Transient controls" is how much I was able to change things in such a short amount of time and with so few buttons, Reformer Pro is not trying to impress me with all the features it has but rather what it can do with such a small amount of buttons.
Master Controls and Master Dynamics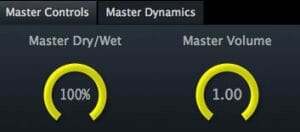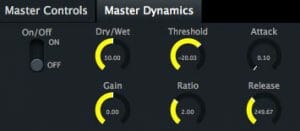 On to the "Master Controls" and "Master Dynamics" settings these help a lot when you have a rather strong sound effect like a Laser gun shot or Screaming banshee that needs some control. These are master controls so there's no setting these up for individual sfx libraries as with the Transient Controls. Master Controls consists of Master Wet Dry, how much of the original sound vs the new designed sound, and Master volume, then the Master Dynamics, has everything you would expect from a compressor, to control the dynamics of the master signal.
Dynamic Input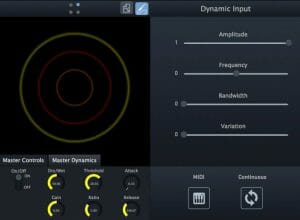 Reformer has a screen called "Dynamic Input", that allows you to adjust the sounds without an input, making this plugin great if your just working with the sounds and don't have a source sound. This lets you trigger the sound effect and is a completely automatable feature, now you can really dive deep into the sound design process and play with them building whole new sounds with combinations of sfx, that are only triggered when needed and how you need them. I found this particularly helpful when working to picture.
The "Continuous" button is great for creating atmospheres, and ambiences with the libraries you have added in, and with the variation settings you could very easily build changing scenes without having to build layer after layer to create a scene, this can come in super handy when you are working on film or game that takes place in similar locations but needs variation, While this was my understanding I did struggle a little to get this right.
"Amplitude" is the main driver of the sound and "Frequency" changes the effect you are getting on the sound, with automated "Frequency" and "Variation", you realize how quickly you change the sound and effects that you get. Oh, and while I am thinking about it, you can load stereo and mono files into a single library, regardless of what type of track you are working on, and these SFX could be anything form 44.1kHz to 192kHz
System Requirements
The system requirements for the plugin are not super heavy, an Intel Mac with Dual 2.4Ghz and 4 gigs of ram and same spec PC means you could go as far back as a 2011 machines maybe even a little earlier. I did all my testing on my 2012 MacBook Pro with Protools 11 and the machine never moan once.
Reformer Pro is available as a digital download and supports systems for 32 and 64 bit processing, AAX Native/AudioSuite, VST and AU, so it will be suitable for almost all your DAW's on the market at the moment and will work right the way up to 192kHz. You will need an iLok account like most plugin now days.
There are two versions of Reformer to consider, the straight forward Reformer takes out some of the "Customizable" features, and does not allow you to use your own libraries, which is kind of the best part of the plugin, but it does come with the Black leopard Library, this is the free version of the plugin so I think it is fair that these features are removed.
In Summary
I have a handful of tools in my arsenal, that I have keep for years, when I first saw the release of Reformer Pro I could not wait to get my hands on it. It took me longer to get than I would have liked but now that I have I will definitely keep it close at hand.
I have already started trying to figure out where it is going to live in my template and cannot wait to get this plugin working on the next game or feature film that I work on. I have worked with many plugins that look amazing and when you get down to it you need to get a degree to run it properly. My biggest hope for Reformer Pro was that this was an easy to use effect for the everyday engineer, not only was I pleasantly surprised as to how easy it was to work with but it was far better than I could have ever hoped, my only real issue was using Reformer to create long sounds and soundscapes will take a little longer for me to get right but I think if this does work in the plugin it is going to be even better an far more powerful.
Creating Monsters, Aliens, Zombies, Space Cowboys or almost any other sound design going forward is going to be a whole lot easier and quicker.
Krotos Audio has amazed me and I look forward to the next plugin I get to review for them, you can buy the plugin from here.
Written and reviewed by Grant Harris of The Sonic Artist