Another week and many more free sound effects have been recorded and added to our library for you to download. As always all these new sounds are available as both mp3 and wav files. Some of the sounds added are from member requests which we'll detail below. Others were sounds we either realised we were missing or we simply came across and recorded them.
Scissors cutting hair
This was requested by one of our members as they needed the sound of scissors cutting hair for a project they are working on. At first we just thought we'd take a visit down to the local barbers and record some real hair being cut, however once there we realised it was either too busy or there was too much road noise, or both. So we had to get our thinking caps on. The first experiment was with an old children's teddy that had a thick fluff. Using some scissors I recorded the sound of me cutting sections, but while it sounded great, it did sound fairly thick and not sure how thick the required sound should be, I decided to go buy a wig. I found the best sound was captured by recording close up and made several recordings cutting thick sections, snipping at thinner sections and then some general cutting sounds. Hopefully these will work for our member. If you want to download them, they are in our Misc Foley category, or just search for 'Cutting Hair'.
Courtroom Gavel Hit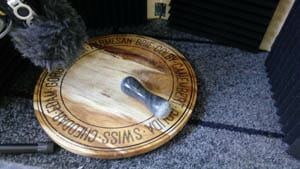 Another member needed the sound of a gavel (the mallet you hear the judge hitting to gain order or attention on the courtroom) hitting a sound block. I must admit this is a sound I hadn't even considered, but believe it could be useful to a lot of members. So I experimented with many different items at first to get the right sound. Initially I used a wooden meat hammer and and large wooden chopping block to try and get the sound. But it sounded too hollow, not heavy enough. I ended up using a large round chopping board and a pestle. Although usually you'd expect to hear some loud reverb on this sound due to the size of courtrooms, I wasn't sure of the angle and distance the user wanted, so I tried to record them dry. I used two different locations for these sounds… firstly I recorded the hits in the studio. But to get a louder sound with a more authentic feel, I also recorded some versions in my garage, which worked well. You can download and use them here.
Other sfx we've been working on this week
Other than the requests, we've recorded over 200 new free sound effects this week. I love anything that makes a creaking sound, so when I accidentally trod on a drainage pipe in a friend's bathroom and it made a fantastic creaking sound, I just had to record it. We've also recorded some old door creaking sounds, bicycle squeaky brakes, played around with a balloon (some of the rubbing balloon sounds are perfect for cartoon expanding), zippers and much more.
If you can't find the sound effects you need, please get in touch. You can post a request in our Q&A forum and we'll do what we can to help.