As a provider of free sound effects, it's lovely to be allowed into locations to record that otherwise we might find a struggle. For many years, having lived in Brighton, UK, I attended comedy events at the Komedia, a buzzing comedy club that features some of the best comedians from around the world and a fantastic audience to boot.
Our recording session was planned for the mid-week, monthly Comic Boom event that showcases many up-and-coming comedians as well as established headline acts.
Arriving and setting up
On arriving early, before the audience, we set about setting up microphones and working out the best positions. Luckily, one of the comedians had asked for a soundcheck which allowed us to take some quick test recordings based around the loudspeaker positions in the club. Many other factors had to be considered. Being a small club (capacity of 200) it was hard to find a position suitably away from individual audience members (so not to capture a single persons laughter louder than everyone else's). Also staff would be cooking and serving food and drinks, so making sure we were out of their way and they were out of ours was critical.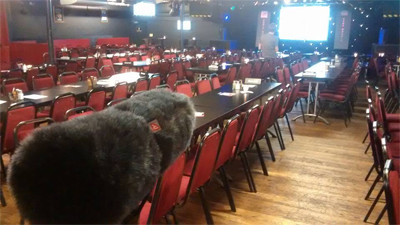 We placed a Zoom H2 on record up high, to the left of the main stage and one to the right. Then we positioned ourself at the rear of the club, next to the technicians box with an A7825 recording into a Zoom H5. This gave us a central location, suitably away from (although not completely) any individual audience members and out of the way of food and drink servers.
Once the audience started filtering in, and the staff started serving food and drinks, we quickly realized that we'd be dealing with servers passing close by and a few close audience member's laughter that might pose a problem. Not much we could do together than keep fingers crossed for some clean recordings.
Once the comedians started their acts, we set our levels (using a limiter with very light settings) and hit record. One of the perks of the job, being able to sit and enjoy four hours of comedy (without laughing so not to record our own, of course).
Some of the problems we faced while recording
While recording the audience laughing, we faced a few problems. The first was capturing the laughter and applause clean, so none of the comedians vocals overlaid it. This was out of our control and we just had to hope we'd get a few clean breaks. One of the comedians had a slow, dry delivery and was extremely funny. The audience took a few seconds to get his jokes and he paused after each round of laughter, giving us many of the free laughter track sound effects we recorded that night.
Servers passing by was also a problem and the wooden floor resonated with their footsteps. Unfortunately the Zoom H2 recordings didn't sound too good because the positions were too close to the wall giving an undesirable boost to the lower frequencies. A lesson learned for us, yet not too much of a problem as after four hours of crowd laughter, we had ample to work with.
While a few members of the crowd were a little too close, we really had little option on the night and feel we had the best recording position with everything factored in. Ideally we would have had more separation between us and the audience, but with the limitations we faced, we feel we captured the best free laughing sound effects we could.
You can listen and download these free crowd laughter sound effects here