Whenever we travel to a new city we like to record as much of the ambience as possible. I used to believe most cities sounded the same, but having recorded a few now, it's safe to say they all have their own unique sound. Brisbane Australia has its own charm and character and of course, sound.
The first thing that struck me about Brisbane was just how much smaller it felt compared to London or New York City. It also was much quieter, even for a busy Monday. There were distinctly less people and traffic on the streets that I expected.
Often when people think of how a city sounds, they think of traffic, people, car horns honking, police sirens etc. While these sounds all occur within the city, they don't typically normally happen all at once. Hollywood have done a pretty good job at making a city sound that way by mixing most of these sounds together to form such an ambience. Not saying it doesn't sometimes sound like that!
The Recording
We boarded a train at Boondall station just north of the city to avoid paying ridiculous parking prices and also to have the opportunity to record the trains. So first up we recorded some nice long ambiences onboard the Queensland Rail train to Brisbane Central Station. Nothing new here to be honest, the train sounds similar to any modern city train, but we managed to get into a 'quiet' carriage to avoid people talking.
Arriving at Brisbane Central Station the first thing we did was walk down into the heart of the Central Business District and the busy Adelaide Street. The Sony PCM D100 was used for all recordings on the day and did a great job. People, traffic and construction noise was captured in these first two street ambiences. These long sound effects are around 4 minutes each and really capture the ambience of a bustling city centre with busses passing, building work going on and people walking and talking close by.
From Adelaide Street we made our way round to George Street and onto Reddacliff Place, a partly pedestrianised area. We got some great ambiences here too, all around the 3 minute mark.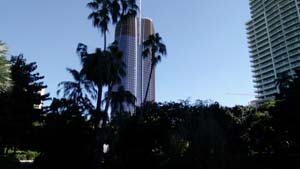 Next up was the beautiful Botanic Gardens. It was a hot day and a few people had escaped the hustle and bustle to gain some quiet time. I was able to record some fountain sound effects along with some general ambience sound effects deep in the gardens. Unfortunately some construction work was going on nearby, but it all adds to the atmosphere
After this we headed out to Queen Street Mall to record the busy pedestrian walkway through the shops. The biggest problem we faced here was music… cafes, bars and shops all play music to entice people through the doors… the problem, it's copyrighted and can't be recorded. So finding a spot away from the music was tricky, especially when you don't want people close by talking etc to ruin the general ambience.
Binaural Recordings
We took with us the Roland CS-10EM binaural microphone set we recently purchased to give them a try. We weren't disappointed. The problem with binaural recordings are they often are not as mono compatible as other mic placements and not always highly desired for stereo applications. However the wide realistic recordings of the city in this format are too good to resist. We managed to capture some traffic and general city ambiences and pedestrianised areas too in binaural.
We are soon releasing all the ambiences recorded in Brisbane as a free downloadable sound effects pack. It will include the binaural recordings too. Keep an eye out here or on our Facebook and Twitter pages for more info.