Here at zapsplat.com some of our most popular free sound effects are animal sounds. From lions and exotic birds to pigs, cows and sheep. It seems our members just can't get enough. So we recently took a trip down to a farm in Hampshire, UK, to record pigs and cattle.
Firstly, if you are going to record on a farm there are a few things to remember to take… Firstly and most obviously your recording equipment. We packed up our trusty Zoom H5 and AT825 plus internal mics, Fostex FR2LE and an AT815ST. But secondly,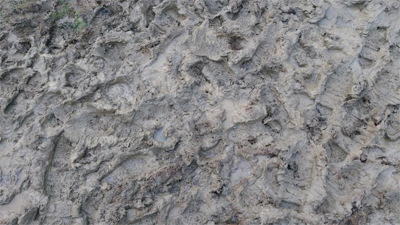 and of at least equal importance is a pair of Wellington boots. It hadn't rained for a few days leading up to the day of our recording but the amount of mud… well, the picture shows some and it got worse!
I was extremely lucky that the owners of the farm were happy for me to freely wander around and record the sound effects of their pigs and cattle. A tip: Always call in advance and make arrangements to record on a farm or the surrounding fields. Farm and farm land are private property and farmers are very protective over their animals. Take a little gift as some chocolates or wine as a thank you. This will potentially mean you can call back and ask to come down and record again another day.
This was a small farm and many of the animals were our roaming the fields. Being so windy, and with the option to record the pigs, cows and bulls safely contained in a pen, this was my focus for the day.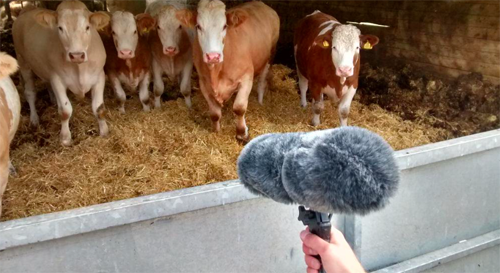 First up the cattle. Disappointingly they didn't want to make any noise. I tried a few things including playing some cow mooing sounds through my phone (this has worked with cockerels before) but to no avail. So setting up the microphone on a stand and in hand, I interacted with the cows, encouraging them closer and getting some footsteps on straw and snorts.
In the background I could hear pigs getting excited so next, I headed over. This, as it turns out, was to be far better. Around 40 pigs and piglets were in a medium sized pen under a partial barn roof. As the little ones played the adult pigs seemed to get annoyed, often squabbling and occasionally what seemed like fighting. I didn't have a boom pole with me that day but was able to stand on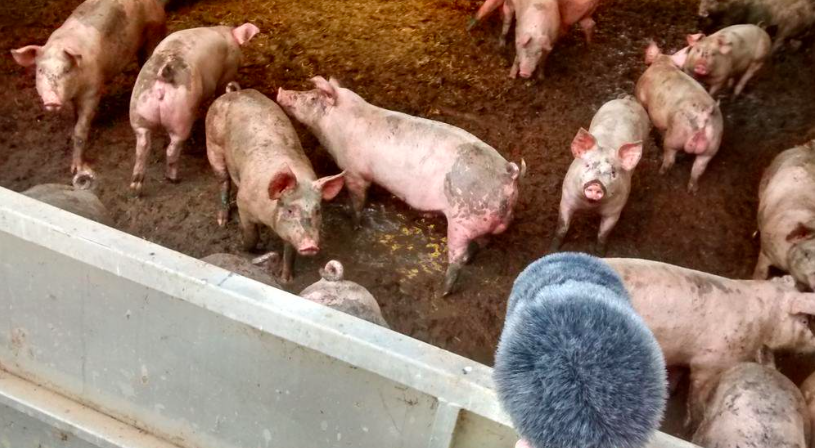 a gate and lean in, getting sufficiently close to record lots of different vocalizations. I must have spent around two hours recording the pig sound effects and so went back to attempt a few more cow sound effect recordings.
The cows were still typically quiet, more curious as to what I was doing, standing staring with a bewildered stare. I got the feeling they were not going to play ball and that my time on the farm that day was done.
I had to get going without being able to make the most of my time on the farm by recording more on this particular day. However, always make the most of any recording location. If you plan properly, there is no reason why you shouldn't be able to blag a ride on, and to record sounds on a tractor, or other parts of the farm. Record the gates opening and shutting, footsteps in mud and puddles, barn doors, fence noises and general farm ambiences are all worth recording.
Listen and download our pig, cow and farm animal sound effects