We recently launched a poll asking members what you use our free sound effects for. The reason we did this is part of an ongoing effort to understand our members needs better and improve our service and sound effects range. Here are the results so far, with 1,597 members having answered (as of 14th June 2017)…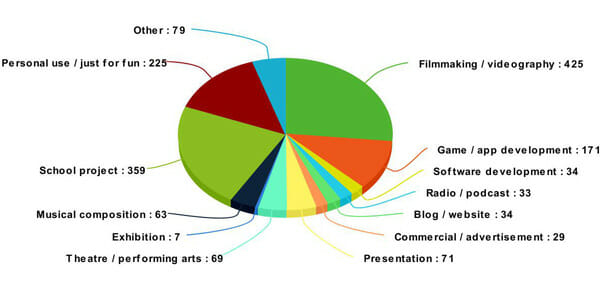 As can be seen, the results show the largest users of our sound effects are Filmmakers and Videographers, at 425 Votes (26.61%). The second highest being School Project 359 Votes (22.48%). Personal Use / just for Fun 225 Votes (14.09%) then Game /App Development 171 Votes (10.71%).
The results from this poll are not surprising to us, as we fully expected the filmmaker community to find our sound effects useful. In fact we often hear back from filmmakers who have used our sounds, or see and hear when we search online (YouTube, Vimeo etc) our sound effects being used.
We LOVE the fact our sound effects are so useful to school children and teachers. When we launched Zapsplat.com, the education sector was one we particularly wanted to target. Finding good sound effects that students can download and use for free was something we realised was highly needed.