It was a Christmas tradition of my Wife's that saw us making a trip across the English Channel and to the French town on Laon, for a pre-Christmas break. So what better excuse to whip out the recorder and record a few sound effect ambiences at Dover port and on the car ferry.
From past experience, capturing good recordings onboard a passenger vehicle requires attracting as little attention as possible from the passengers and staff alike. Too often have I been asked to stop recording or had to deal with curious people asking what I am doing and ruining the take! So for these recordings I used my trusty old Zoom H2.
Recording the port sounds at Dover
Surprisingly the port was very quiet at this time of year and many of the buildings were empty. However outside some great ambiences were waiting to be captured. Some of the first sound effect ambiences to be recorded where this recording of a large ferry idling in the distance while light waves lap on rocks close by.
When a P&O ferry came rolling in and the cars and trucks drove off, the recorder went on and this ambience was captured.
Our turn to board the ferry and with the kids safely ushered aboard, I got to work.
Recording onboard the DFDS car ferry
As stated earlier, this appears to be a quiet time of year for travels abroad… I had assumed the opposite. It's actually quite refreshing to be able to record ambiences in public spaces without people. First up was this recording of the corridors between the lounge and cafe onboard. The engines droning in the background and few people (mainly French) wandering around makes for a great free sound onboard a ferry or other large ship.
Next I recorded inside the lounge area itself, before moving to the cafeteria.
By now we were at sea, cruising over the not so calm but equally not rough English Channel. To my annoyance, everytime I tried to capture a recording of the ships funnels, someone would walk by chatting away. Eventually this clean recording of the ambience at the rear of the ship by the funnel was captured (the occasional pinging sound is the ties holding the covers of the lifeboats down).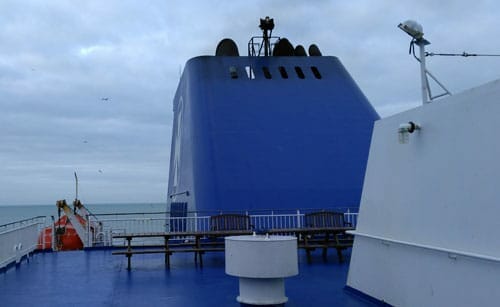 Last but not least as we sailed parallel to the Calais coastline heading to the port and while the other passengers where queuing to get to their cars, I managed to record the drone and hum of the top deck, wind blowing a few small pieces of litter around.
Oh and I almost forgot, this recording of the ferry toilet and toilet flushing may come in handy!
We have a growing range of free boat and ship sound effects. We and our contributors are always recording more. You can download all our free ship and ferry sound effects here.