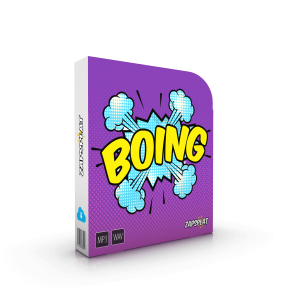 Cartoon Boings
22 free cartoon boing sound effects to download and use in your cartoons or other creative projects. These sounds were created recording a small jaw harp, widely recognised for that classic boing sound heard in old cartoons right through to modern productions today. Great for a variety of actions, from jumps, twangs and springs, to impacts and more... even the Easter bunny hopping her way around the world delivering all those eggs. These free boing sound effects are safe to use in any project, recorded in-house and professionally edited, so you can drag and drop them into your project. If you need more, we have lots in our Free cartoon boing, spring and twang category so check there for more!
22 files in this pack
Preview the sounds in this sounds effect pack
Download Ready Below...
Remember, you must credit us/provide attribution when using our sounds/music in your work. An example would be:
Sound from Zapsplat.com
---
Get Unlimited Downloads, Attribution Free and More When you Upgrade for Just £5
Unlimited downloads
Removal of the attribution requirement
Higher quality sounds (get the wavs too)
Thousands of extra sounds
Premium professional soundfx packs
Create and organise sounds into lists
More results per page & ad free