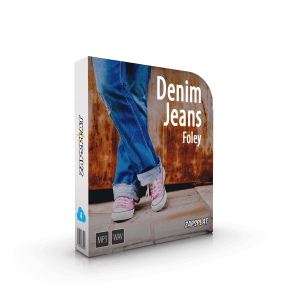 Denim Jeans Foley
If you're looking for some free demin jeans sound effects, look no further. This free sound effect pack contains 33  recordings of various jeans movements, putting on, taking off, shaking, dropping on the floor and more. Also included are walking, jogging and running movements that can be used as is, or edited down to match the movements of your on-screen character. We've recorded this pack so you don't have to spend time in post production adding in all those extra sounds to bring your production to life. We've also plenty more of these in our main library Foley Movements category here.
24 files in this pack
Preview the sounds in this sounds effect pack
Your sound is ready to download below.
Consider upgrading to Gold and get:
Quicker downloads - no more 10 minute wait after 3 sound downloads
No more crediting us - removal of the attribution / credit link requirement
Higher quality audio - download higher quality .wav and .mp3 files
Expanded results - show more results per page (up to 100)
Lists - organize our sounds into unlimited personalized lists
Turn off ads - optional if you prefer not to see them
Continuously updated library - new sounds added daily
Monthly or yearly donation - cancel anytime
Discount for educational facilities and multi-users/agencies
No thanks just give me the sound....