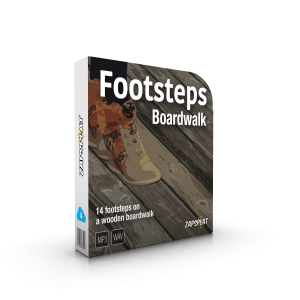 Footsteps on Boardwalk
This free sound effects pack contains 14 single sneaker footsteps on a wooden boardwalk, ideal for filmmakers, animators, game developers, performing arts and much more. The sounds in this pack are provided as single steps, great for synchronizing in your project. No need to edit a long file to extract the footsteps you need, just drag and drop them into your project and away you go. This means they are easier to create walking, running or passing by sequences that fit your project perfectly.
14 files in this pack
Preview the sounds in this sounds effect pack
Download Ready Below...
Remember, you must credit us/provide attribution when using our sounds/music in your work. An example would be:
Sound from Zapsplat.com
---
Get Unlimited Downloads, Attribution Free and More When you Upgrade for Just £5
Unlimited downloads
Removal of the attribution requirement
Higher quality sounds (get the wavs too)
Thousands of extra sounds
Premium professional soundfx packs
Create and organise sounds into lists
More results per page & ad free