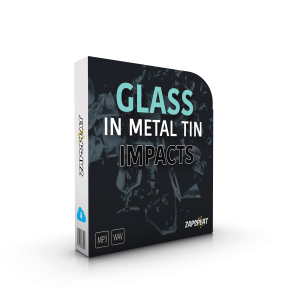 Glass in Metal Tin Impacts
This free sound effects pack contains 46 impacts of glass pieces inside a small metal tin. The idea for the pack came from needing some elements to layer up for a car crash. Needing some metal and glass smashes, we placed some old glass jars and also pieces of already broken glass inside a small empty tin (chocolates) and proceeded to drop it, throw it against surfaces etc. These sounds are fantastic for any type of heavy glass and metal impact sfx and can be layered up to create even bigger smashes. We even included some bonus sounds of the tin rolling and some movements.
46 files in this pack
Preview the sounds in this sounds effect pack
Download Ready Below...
Remember, you must credit us/provide attribution when using our sounds/music in your work. An example would be:
Sound from Zapsplat.com
---
Get Unlimited Downloads, Attribution Free and More When you Upgrade for Just £4
Unlimited downloads
Removal of the attribution requirement
Higher quality sounds (get the wavs too)
Thousands of extra sounds
Premium professional soundfx packs
Create and organise sounds into lists
More results per page & ad free