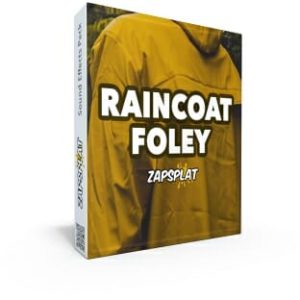 Preview the sounds
in this sounds effect pack
33 files in this pack
This pack contains 33 free polyester raincoat Foley sound effects and covers as wide a range as possible of movements and other useful sounds. We wanted to create a pack that was ready to go for anyone needing to incorporate these jacket sound effects into their film, game, app or whatever their project may be. There are several movement variations, from shaking to general actions that can be used for both wearing and not wearing. There are also several dropping and picking up sounds, plus zippers, pockets, velcro fastener rips and much more. We also included some walking and running movements which will be very useful for any action scenes that need a touch of realism.
Download Mp3
Your sound is ready to download below.
Consider upgrading to Gold and get:
Continuously updated library
Removal of the attribution / credit link requirement
Get all our sound effects in the original, higher quality .WAV format as well as .mp3
Loads of extra free sounds exclusively for Gold members added weekly
Show more results per page (up to 100)
Lists - organise our sounds into unlimited personalised lists
Quicker downloads - you won't need to wait after 3 downloads!
Option to turn off ads
Monthly or yearly donation - cancel anytime
No thanks just give me the sound....