If you've read some of my previous posts regarding portable handheld recorders, you'll be aware that I've use many over the years including others from the Zoom range (H2 H4 and H5) as well as higher-end recorders such as the Sony PCM D100 (great review here) which is my current go to portable. But even the Sony device can be a little bulky for those situations where you just don't want to have to carry it around.
For me this is most weekends when I am out and about with my family, visiting the beach, shopping, going for a walk or out for a meal. These times are when I am not working and spending time relaxing, but it's also often the time in the past when I've kicked myself when a low flying helicopter flies right overhead, or I happen to come across the squeakiest door on the planet. These are the times when I say to myself "I wish I had my recorder on me".
Last week I was walking back from the beach when a huge machine was operating by the side of the road (road works) and I was able to walk right up to it, with no other noise in the background. This would have been the perfect opportunity for me to have grabbed a quick recording. If I think about it, there probably have been so many times and missed opportunities over the last year or so (I used to always carry a Zoom H2 for this reason but it eventually broke) when I could have added maybe 50 new sounds over the course of a weekend but couldn't record at that time.
So I went out and picked up a Zoom H1 recorder.
The Zoom H1 isn't a high-end recorder by any means. Don't get me wrong, it's capable of recording some great audio and with it's X/Y microphones, recording of up to 24bit / 96K audio and up to 10 hours of recording on a single AA battery, it's also not down there with cheap dictaphones. At only around $110 USD it's a cheap device however.
So is it actually any good? The build quality is average. It's nowhere near as well built as a Sony PCMD100, or an equivalent Roland, Tascam or other portable recorder. Even the Zoom H4N and H5N are much sturdier. It's all plastic body does allow for some heavy handling noise if you're not careful. It does come with a small stand screw hole on the bottom allowing you to attach a handheld grip or stand, but for me this wasn't really what I needed it for.
The menu is a little clunky, and you need to use either the play or record button to navigate it, but having said that, I managed to work out all functions within a few minutes without reading the manual.
On the back are three switches, one for selecting the low cut, one for auto level and another for switching between wav or mp3 recording formats. Not a bad place to put these switches and better than having to find the functions within the menu system.
The microphone capsules are well protected within a well designed protection ring and I feel confident that they won't easily get damaged. However the lack of an included windshield means that even with the slightest breeze, the mics will suffer from wind noise so you'll need to go get one. I just used my Rycote windshield that I got for the Zoom H5 which does the job and fits into the pocket better than a denser foam one.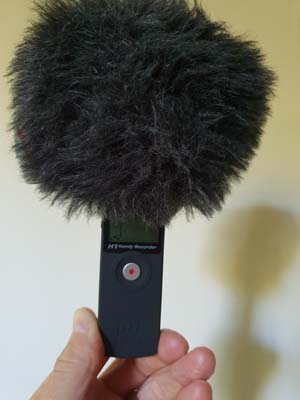 I find setting the recording levels on the H1 very cumbersome. Using a button adjustment system, you have to press for each level increase or decrease increment which is slow and also annoying. But I understand the constraints in such a low cost and small device so it's to be expected.
Recording wise the device performs very well. Even though you need to have the gain turned up high to get a good signal, the mics are fairly sensitive and provide a good stereo image. I was surprised at the low noise floor from this device and it performs well above my expectations.
Conclusion
Would I recommend this recorder? Yes, if like me you're looking for something to quickly capture good quality recordings on the fly in situations that you'd otherwise miss. But I wouldn't recommend this as your main recorder, unless you're just starting out and need a simple to use and understand device. For videographers, YouTubers etc, this is probably a good choice however, but just not as a permanent pro-audio option.
Note: Zoom have now released the Zoom H1N: