I've written about FreeToUseSounds.com before but a lot has happened since that post just a year ago. As one of the most interesting free sound effect libraries to exist in the community today, Marcel and Libby, the founders of the library have been busy working on loads of new sounds. They've even given us an exclusive code you can use to get an 80% discount on their (already free or cheap) library which you'll find at the end of this article.
How it all started
Marcel and Libby have been touring the world for many years but in 2017 in Siem Reap, Cambodia with an idea and a Zoom H1 recorder in hand, they set about embarking on a new adventure, one that would see them capturing the diversity the world has to offer in a completely different way, through sound.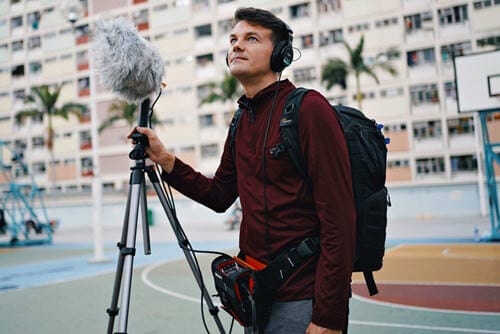 Since then they have managed to record hours upon hours of bustling towns and cities to the natural soundscapes of rainforests and jungles, waterfalls and rivers, wildlife and more from across the globe.
Since the world has gone into lockdown over the Covid-19 Coronavirus, they haven't stopped recording. In fact Marcel has been posting up lots of useful and interesting videos of the ways they're adapting and growing their library, by releasing previously unheard libraries and also recording the many objects and items that surround them.
They release their sound libraries via Bandcamp, allowing you to download a free library or pay to access the entire collection and all future updates in Mp3, FLAC, ALAC, AAC, Ogg Vorbis, AIFF, and WAV formats. I've witnessed many professionals across the industry comment on the amazing quality of the audio and as a user of their sounds myself (we also have some of their sounds in the library here) I highly recommend that you check them out.
Go check out their libraries
Marcel and Libby have very kindly given us a unique and exclusive code to offer you a whopping 80% off any of their libraries. To use this code, simply enter 'zapsplat' when purchasing a library from their Bandcamp website here